Picture This: The Marketer's Guide to Visual Content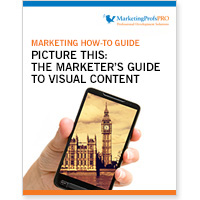 Name Product: Picture This: The Marketer's Guide to Visual Content
Market price: [b] $49.00[/b]
Home sale: [url]http://www.marketingprofs.com/store/product/2216/picture-this-the-marketers-guide-to-visual-content[/url]
Think of the Oscars selfie that almost broke Twitter, the street portraits on the Humans of New York photoblog, the Instagram takeover of pop culture: Images shape our world and our conversations. (Sometimes—as in the case of teenagers and Snapchat—they are the conversation.)
As storytelling becomes more and more part of marketing, visual content is developing into one of content marketing's most powerful assets. Brands are becoming more visual. They're making compelling updates on image-driven networks such as Pinterest and Instagram, and using photos, videos, infographics, and slideshows as
storytelling devices to redefine their presence on Facebook and LinkedIn.
Visual content helps you connect with customers immediately and powerfully.
In this 21-page guide, you'll discover how visual content is upending the way brands communicate with their customers—and which brands are doing it best.
You will learn:
The types of visual content that cut through the digital noise to showcase your brand's personality
Tips on telling visual stories that drive emotional reactions
How to build relationships with your most engaged customers
… and more!