David Garfinkel & Brian McLeod – Fast, Effective Sales Copy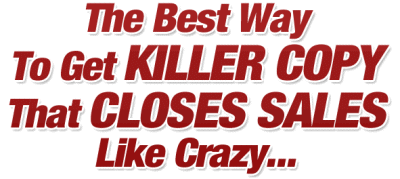 Name Product: David Garfinkel & Brian McLeod – Fast, Effective Sales Copy
Market price: $ 497.00
Author: David Garfinkel & BrianMcLeod
Page Sale (more info)
At last, a complete, easy-to-use SYSTEM
built especially for entrepreneurs
who need copy that works… FAST…
…and also for copywriters
who need to turn around amazing copy
that gets stunning results… very quickly!
You get examples for how to use the templates, a one hour recorded class in streaming, downloadable and PDF transcript form.
View online or download beautifully designed PDFs to read onscreen, search or print out.
Copywriting TemplatesModule 01 – Headline Templates
Discover how to quickly capture your reader's attention with a gripping headline using these 20 Headline Templates
Copywriting TemplatesModule 02 -
Bullet Templates
Emphasize the uniquely fascinating benefits of your offer with proven Bullet Templates
Copywriting TemplatesModule 03 – Story Templates
Seduce your reader with a captivating story that sells your product or service hypnotically
Copywriting TemplatesModule 04 -
Negative Optism Templates
Discover how you can tap into your reader's negative thinking to make your product or service shine
Copywriting TemplatesModule 05 – Offer Templates
Make your reader an offer she simply cannot refuse with these irresistible offer templates
Copywriting TemplatesModule 06- Subhead Templates
Keep your reader's eye glued to your copy with these compelling Subhead Templates
Copywriting TemplatesModule 07 – Guarantee Templates
Melt away your reader's resistance with these powerful risk-reversing Guarantee Templates
Copywriting TemplatesModule 08 – Value Builder Template
Effectively communicate the tremendous value your offer represents – and make your reader desperately want it!
Copywriting TemplatesModule 09 – Takeaway Template
Leverage the tremendous selling power of taking something away from your reader with these Takeaway Templates
Copywriting TemplatesModule 10 – Choice of One Templates
Here's proven templates for kneecapping the competition and creating exclusivity for what you sell
Copywriting TemplatesModule 11 – P.S. Templates
Your postscript is one of the most highly read parts of your copy – make the most of it with these proven P.S. Templates
Copywriting TemplatesModule 12- Flow Template
Put it all together with a simple, proven flow in your sales copy using this simple, illustrated Flow Template
Related Posts via Categories